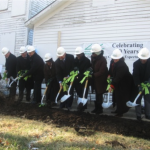 The Apartments at Highland Place
The development will provide 22 units of affordable rental housing in seven historic structures located in Kansas City's 18th & Vine Historic District. The seven structures include six single-family homes and the former Rochester Hotel. All the buildings have been determined to be contributing resources to the 18th & Vine Historic District. These structures reflect a period when African-American citizens moved to the area around 18th & Vine Streets and created a vibrant neighborhood with prosperous businesses and entertainment venues. The Rochester Hotel and its neighbors in the 1800 block of Highland Avenue are the last extant cluster of early twentieth century residential development in the District and reflect the domestic lives of Kansas City's African-American population in the 18th & Vine Historic District.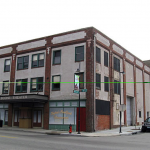 Historic Boone Theater
Under the leadership of the Downtown Council, the Metropolitan Arts Council's Our Town grant through the National Endowment for the Arts of $200,000 will support the predevelopment, design, and community planning phases of the restoration of the Boone Theater, located at 18th & Highland Avenue. The project will transform a blighted, vacant space into a vibrant cultural center, strengthening the existing arts and cultural community in the process. The planning process will engage the neighborhood's cultural institutions, residents, and businesses in generating a vision for a facility that will honor John "Blind" Boone, the theater's namesake and an African-American concert pianist whose music bridged folk and ragtime traditions.
Planned Redevelopment

A historic preservation assessment of the remaining undeveloped structures in the Jazz District, including the historic Attucks School for educational/community use, the Boone Theater/Armory and the Eblon Theater buildings.